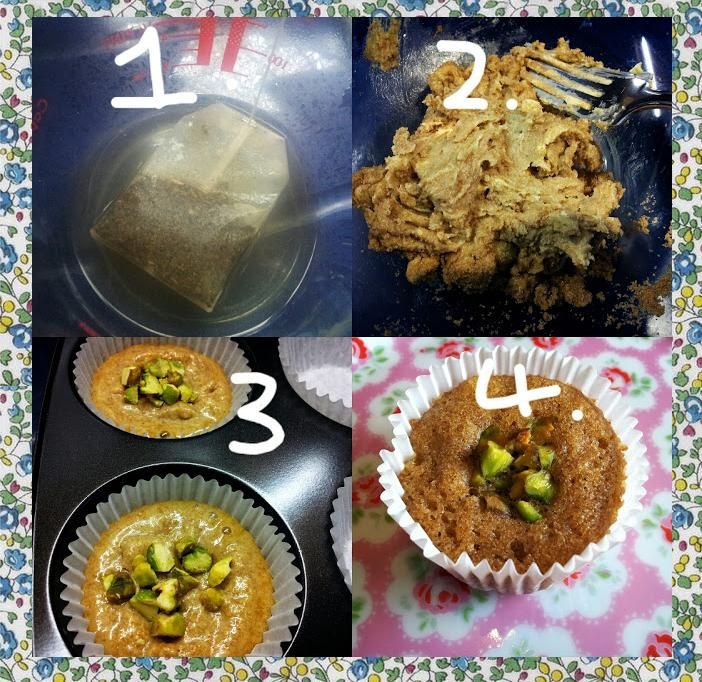 Wishing a happy mother's day to all the wonderful mum's out there! I decided to bake my mum some treats with a selection of all her favourite flavours. It's incredibly simple, takes hardly any time and the results are delicious. So if you feel like your mum's missing an extra little something today, why not have a go at one of these? :-)
The pictures above are for the green tea cupcakes, which definitely went down the best, and their delicate taste is well suited for today's occasion. Please bare in mind that my recipe is for 12 mini ones and I divided the mixture up into three different flavours (coconut and lemon were also included) so you can always modify yours.
You will need...
60g butter
60g sugar
75g self-raising flour
1 egg
1 green tea teabag
pistachio nuts
(dessicated coconut)
(lemon food colouring)
(walnuts)
What to do....
Boil the kettle, as you would when making a cup of tea, and pour a small amount of water into a jug, cup, whatever. Then pop in your teabag (to be precise, the one I used was a mango and lychee green tea because that's my mummy's favourite) and leave it resting in the water
Next, cream your butter and sugar then combine the egg and fold in the flour.
Take out the teabag and then pour the tea into your mixture and give it a nice mix so it's all soaked in.
Chop up some pistachio nuts (if you had some) as these make a pleasing topping :-D
Spoon the mixture into cake cases and then sprinkle some of nuts on top of each.
Bake for about 15 minutes
If doing any of the other flavours, simply follow the same steps but for the lemon I sprinkled chopped up walnuts on top and for the coconut I used dessicated coconut.
As you can see below, I did not stop there. Nu-uh. I also make some tarts for dessert. Again this could not be easier to make. I added dessicated coconut to the (homemade, of course) pastry and baked for 15 minutes. Then, once cooled, I added a fine layer of jam to the middle and topped with blackberries and pistachio nuts. We are not sure how it tastes yet as we're saving them for after dinner but for the sake of this post and selling these recipes to you... IT WAS FANTASTIC.

Hope you have a good day/ had a good weekend. I'm off to do coursework now. Fun, fun, fun.