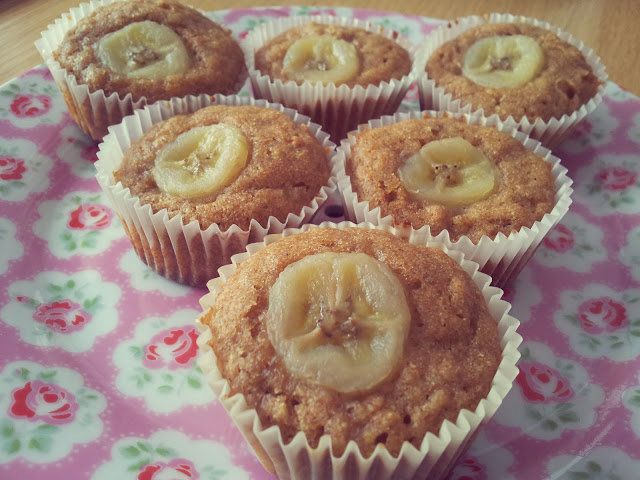 RECIPE OF THE WEEK. I've thought maybe this could be a new feature for my blog as it is becoming part of my weekend routine to bake up some mini treats (partly due to the cupcake maker I unexpectedly received for Christmas) and I like to share them with you because, well, everyone likes cakes and stuff, right?
I understand that many hate bananas and if you are one of those many then I am sorry but this one's heavily banana based. It's an ideal breakfast cupcake as it's packed with healthy energy to hopefully help keep you feeling awake and active throughout the morning. It's also incredibly simple and quick to make! To do so,
you will need...
2 bananas
1 egg
50g butter
50g brown sugar
65g wholemeal self raising flour
what to do...
Preheat the oven to 180

Mash one banana and the egg together. (I did this in a mixer and then poured it into a bowl)

In a larger bowl, beat together the butter and sugar

Add the banana mixture and then fold in your flour

Finally, divide into cases and bake for 15-20 minutes. I placed a slice of banana on top of mine, as you can see

As it's the weekend, I'd like to leave you with this thought: wouldn't it be wonderful to spend the week as a princess, living in these dresses from the Valentino spring 2013 couture collection? luxuriant, exquisite, dainty... wouldn't it be a dream?