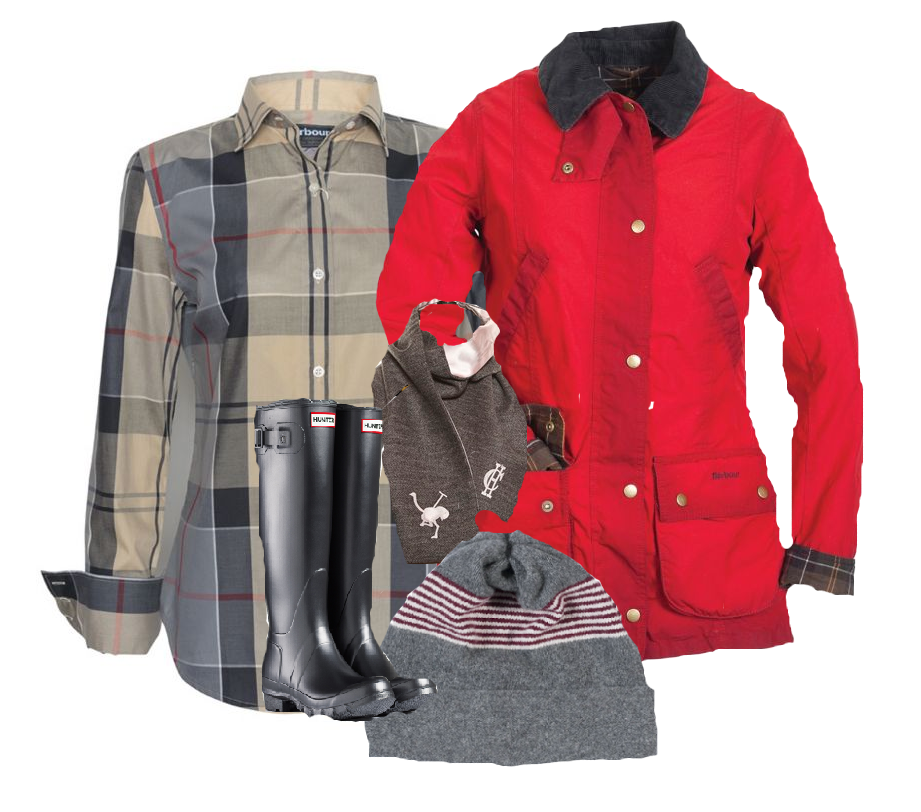 Residents of country life will most probably take pleasure in walks out in the open air any time of the year but, if like me and you live near fields, there's always something a lot more enjoyable about taking wanders in between April showers when the grass is a minefield of puddles and another gush of rain could descend from the seemingly sunny sky at any given moment without warning. I still find as much ample delight in the squelching sound of mud beneath my wellies as I did as a kid and I still see the fun in sliding about on an unexpected patch of slush. But these quintessentially British times cause for a go-to outfit and who better to rely on than
Barbour
for a shirt and jacket?
Holland Cooper
for a scarf? (it's still bound to be nippy out there...) And
Hunter
for wellies? A cute
Jo Gordon
beanie would fit in there perfectly too.
DRESS TARTAN
Yes, the two above items from Barbour are taken from their latest 'dress tartan' collection. You may have seen the beautiful women behind the likes of
Wish Wish Wish
,
What Olivia Did
and
Dearest Deer
show us how some of the items can be worn on a day-to-day basis as part of the
4 Ways in 4 Days
feature and if that's not a way to desirably advertise a collection then I don't know what is ;-)
With Barbour being very British and tartan also having very British qualities to it, the collection is then made up of the most perfect pairing and one which I am especially fond of. With the brand being renowned for their jackets, it's refreshing to see that I am also drawn to the shirts, dresses and polo shirts- something which usually I wouldn't pay much attention to.
While on the topic of countryside musings, did anybody read about Tom Daley's
'micro pig'
which everybody including newspapers and 'Ant and Dec's Saturday Night Takeaway' believed to be real when it was in fact an ornament? I think he deserves the award for the best April fools trick.